10 Simple (but not easy) Steps in 2018
To creating a more simple and fulfilling 2018
As we wind down 2017 and ramp up 2018…
…we are inundated with promises. Promises of larger lives, smaller butts, more adventures, and less stress. "For only 3 payments of $99.99…you can be the you you've always wanted to be!"
Yes, many of the courses may be well worth the investment. I've certainly signed up for my share. But sometimes all you need is to be honest with yourself (because most of us already know what we need to do… if we're honest), support, encouragement,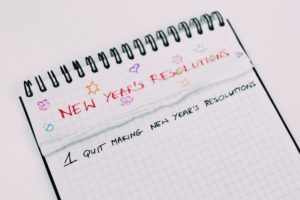 and … well, a kick in the butt.

Do you make New Year's resolutions? We don't, per se. It seems 99.99% of the resolutions involve the same things anyway…
Exercise
Weight
Money / job or (and)
Something involving other people.  (IE: Improved relationship, Finding a relationship, Ending a relationship… And, who wouldn't like to improve at least one of these? We don't need an annual resolution for that.)
In addition, although we do agree January 1 is a good, "natural" time for slowing down, taking stock and self-evaluation, it's important to be as committed to making change on April 8 and October 22 as we are on January 1.
Instead of New Year resolutions, we'd like to suggest action we can take to simplify and make our lives more fulfilling. 10 – Simple (but not necessarily easy) steps, to be exact. We're all for being healthy, not only in body, but in mind, spirit – AND emotionally, as well. We figure if we work on simplifying and increasing our fulfillment in life, we'll be taking care of the rest.
Unsubscribe (Responsibly… not from us!)
Minimize Choice – Capsule Wardrobe, Meal Planning
Commit to Offline Places and Times
Eat Right for Life; Banish the Bads – Sugar, White flour and Processed food
Practice Patience – Instantaneous expectations
Prune Your Environment
Daily Move & Hydrate
Give with No Strings
We'll be adding the links to these over the next couple of weeks, so keep checking back. If you'd like us to email you the updates directly, sign up here.