Anti-Aging Products and Jason Masks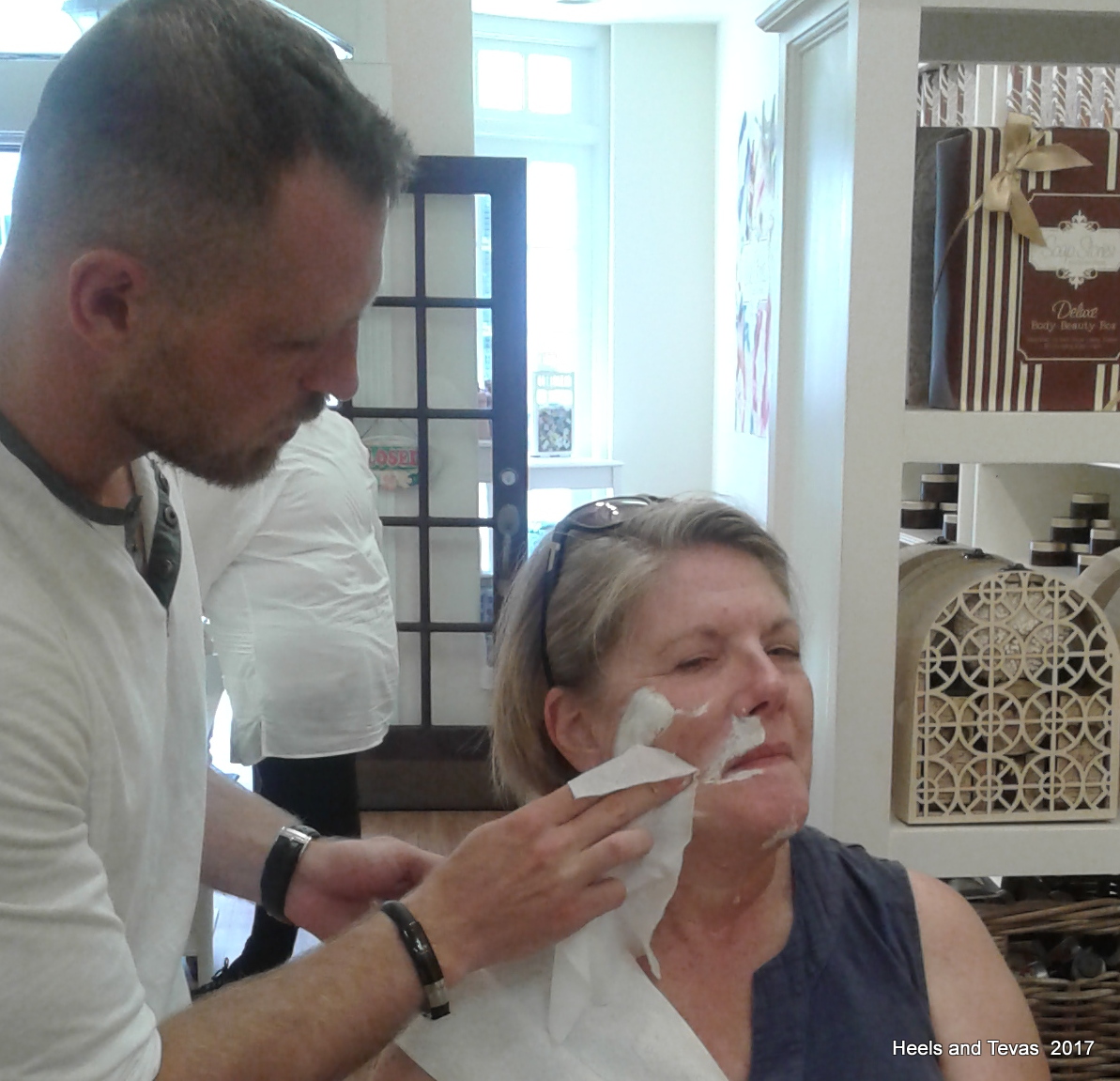 Anti-Aging Products for Women Over Sixty
...or, we should say, Anti-Aging Gimmicks...
My Friend for Life, Cathy, and I were walking down the street, chatting mostly, but looking into the shops, too. The men were wandering ahead of us, intent on finding FOOD (that is best uttered fiercely while smashing one's fist into one's chest. They were hungry.) Cathy was distracted by (it must be said) an attractive younger man offering free soap. After an encounter in Key West, I have learned to avoid these offers (there are two such stores on St. George Street in St. Augustine). Cathy was lured into the shop to "check out the soap" while I whispered, "This stuff is really expensive."
More...
We Get Our 60-year-old Faces Gooped Up with Anti-Aging Products
Innocently, she smiled her mischievous smile and agreed to sit on the offered stool, so I shrugged my shoulders and joined her. We were privileged to have the right side of our faces treated with a dizzying array of products while our ears were treated to an equally dizzying sales pitch. From "ecologically friendly" to "I don't make any money doing this; I'm just helping my friend," we smiled, rolled our eyes, and gave an apologetic glance to our respective starving spouses when they found us.
Having been the encourager in Key West, EW thought he knew what to expect, but he did not figure in the commitment of our non-salesperson. In Key West I received two treatments around my right eye taking just 15 minutes from start to finish. Here, thinking he had the perfect anti-aging products for women over 60 and two such ladies who wanted to look younger, had high incomes, and no self-control, we got the whole pitch. The whole if-we-wanted-to-achieve-these-results-at-home-$5000.00-sales-pitch. I laughed afterwards when Cathy's husband said he was getting ticked off thinking she was going to buy $50.00 worth of junk. Talk about worrying about the little things!
Neither Cathy nor I succumbed, though she admitted after that she might have gone for a $50.00 item if it had been pitched. The "not a salesperson" refused to give us a card as this "deal" was only good right there in the store. (Sign number 636 that this business is not on the up-and-up as we define that phrase.) I'm pretty sure the photo of the two of us was right after he blithely mentioned the $5000.00 cost. (Those eyes were not amused.)
Hmmm Anti-Aging Products Work? Who Knew?
But here's the thing: The difference was noticeable; moreover EW noticed, as in, "Wow. The difference is unbelievable!" And later, "I cannot believe the difference!" This went on for a few days. I was not amused. He tried to back down a bit by telling me that he was really complimenting me. He wasn't. The real me was the left half of my face. He was complimenting a $5000.00 (and limited edition) figment of his imagination.
Of course, EW's effusive praise for the right side of my face made me feel a bit self-conscious. After all, this 60-year-old woman hasn't done a lot for her skin other than SPF 30 and 50 sunscreen, and a bit of cleansing and moisturizing. No Botox, lift, special eye creams, masks—nada. No wonder I look (ahem) 49 on a bad day. Perhaps I should look into other options. Plus EW. I was definitely motivated by his "compliments"—but not the way he intended, perhaps. .
NOTE: Lest I pick on EW unjustly, do please note that once the hubs found us, he immediately took my phone and started taking photos for the blog. I love that man.
---
Lynnelle here:
Who knew that expensive facial creams were being hawked like carnival ride? I had a similar pitch from a non-sales person in Las Vegas. We were walking through the shopping area of when the gentleman standing outside the boutique started talking to us - asking us about our skin, how we'd like a free facial, had we seen this new, miracle cream, they guaranteed they could take 10 years off your face, on-and-on-and-on, all for FREE; reaching out and almost physically pulling us in the store. Who ARE these people? Their previous employer was a touring carnival, I'm sure.
I didn't see a $5,000 package, but what was pitched to me was over $500 (which was 50% off) for 3 items. Geez. Not sure the brand Barb was 'introduced' to, but my hawker worked for OroGold. You can check it out on your own. I'm so disturbed by the pushy sales tactics and over-the-top pricing I'm opting to NOT put a link here.
Most ridiculous beauty treatment - EVER.
The award for the most rediculous beauty treatment? Yes, I am embarrassed to admit that I am making this judgmental statement based on personal experience and am even posting physical proof.
My sister, Karen, was raving about this mask that you slept in. Ok. Ok. I'll bite. It MAY do something positive and I'm up for anything that will take a a year or two off this 60 year-old face . Unfortunately (or, was it?) the mask was so uncomfortable (and embarrassing) I didn't wear these things more than a few times. But - try them I did. Yes. Barb calls it my "Jason Mask". At least she did picked herself up off the floor and caught her breath from laughing so hard.
If truth be told, I have more than a few episodes of ridiculousness to share; the Chinese herb mixture you combine with an egg white and wear overnight, the ancient Ayurvedic Kansa facial wand massage... you get the idea.
I can't be alone in this. Tell me I'm not the only one experimenting different ways to keep my girlish glow. What is your most ridiculous beauty 'secret'?